The 2-day conference includes public keynotes in the morning and afternoon sessions. In between the keynotes there will be presentations by industry professionals, academics and researchers from around the world. Academic presentations will be selected through an open call for research papers.


Keynote Speakers
Conference Papers
| | |
| --- | --- |
| Title | Authors |
| Media architecture: Content with purpose for the public. | James Berrett |
| The Sentiment Cocoon – A Case Study of Media Architectural Interfaces | Moritz Behrens, Konstantinos Mavromichalis and Ava Fatah gen. Schieck. |
| Computationally-Enhanced Ecologies, Organisms, and Parasites. Speculative Explorations of Symbiotic Oscillations | Stavros Didakis |
| Times Square in the Era of Post-Truth Politics | Ecem Ergin and Ava Fatah Gen. Schieck |
| More-than-Human Media Architecture | Marcus Foth and Glenda Caldwell |
| Residential Media Architecture: Design Considerations for Sharing Personal Information on Low-Res Displays | Marius Hoggenmueller, Alexander Wiethoff and Martin Tomitsch |
| Play about Place: participatory urban planning in location-based game design | Troy Innocent |
| Mediated Spatial Narratives: Experiencing Archival Material and Shared Memories in Urban Space | Efstathia Kostopoulou, Ana Javornik, Petros Koutsolampros, Simon Julier and Ava Fatah gen Schieck |
| Mapping Chongqing's Urban Media Ecology | Ian McArthur |
| Depraved Urban Scapes: Inhabiting Subnature in the Hybrid City | Vanessa Panagiotopoulou. Xinyi Li, Ziyi Yang |
| Media Façades: When Buildings Perform | Michael Scully and Samuel Mayze |
| Responsive Technologies of Social Health | Ben van Berkel. Wael Batal and Filippo Lodi |
| Effectiveness of Virtual Reality in Participatory Urban Planning – A Case Study | Jos van Leeuwen, Klaske Hermans, Antti Jylhä, Arnold Jan Quanjer and Hanke Nijman |
| Hyperlocal Media Architecture: Encouraging Societal Change through Media Facades | Niels Wouters, Sandy Claes and Andrew Vande Moere |
| Media Architecture in Knowledge and Innovation Districts: Designing a Canvas for Research, Culture and Collaboration | Niels Wouters, Tim Hunt, Olga Dziemidowicz, Rose Hiscock and Frank Vetere |

Late-Breaking Works
| | |
| --- | --- |
| Title | Authors |
| Exploring the role of data-supported social interaction manifested through public displays | Yuhan Ji, Ava Fatah gen. Schieck |
| On the Way: A Screens Collective Project on the Infrastructural Affects of Waiting in Urban Transit | Stephanie DeBoer, Petra Johnson |
| Building pixels with others: a participatory experience to make a low resolution led matrix | Artur Vasconcelos Cordeiro |
| Developing an Intuitive Website for Prototyping Creative Media Facade Content | Naiyu Wang, Luke Hespanhol |
Conference Chairs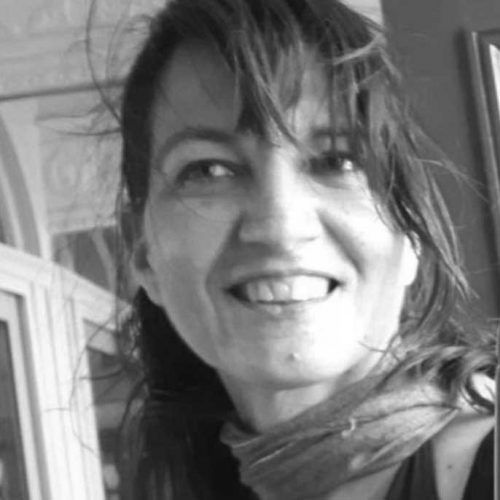 Ava Fatah gen. Schieck
Ava is Associate Professor in Media Architecture and Urban Digital Interaction. She is a registered architect and teaches on the MRes/MSc Architectural Computation Programme at the Bartlett School of Architecture, University College London (UCL) where she leads the Studios 'Body as Interface' and 'City as Interface'.Ava brings knowledge and expertise in the areas of Architecture, human-computer interaction and performance, with a focus on sensory environments, and human behaviour within the built environment mediated through Mixed Reality (AR, VR, and Ubiquitous Computing).Her research is practice based that she has developed over the last 17 years through research and teaching positions she held at The Bartlett (UCL) the UK's largest faculty of the built environment. She leads LAAAB; a unique longitudinal research and a Living 'Media Architecture' Lab of 4 connected urban screens running since 2011 (UK).
Through urban play, action research, and working with local communities, Ava investigates the design, placement, implementation and evaluation of embodied (situated and mobile) digital media with the overarching goal of developing a framework for their integration within the built environment. This involves developing a sound theoretical footing that combines architecture and interaction design and based on deriving design principles that are theoretically well-founded, and empirically tested.
Ava is the Principal Investigator of the 'Screens in the Wild' project, which explores the potential of networked urban screens for communities and culture through the development of an integrated network of four interactive public displays connecting 2 different cities in UK. She co-leads 'Whose Right to the Smart Cities'; an International Research Network around engagement in the 'smart city that critically address the smart city agenda, in India, Brazil and the UK, allowing unique prospects of international collaborations with centre of excellence in research for the Digital Environment. Ava's work on architectural space and its transformation and acquisition through new media, was published extensively in peer reviewed Journals and Conferences. She is a member of the Placemaking Leadership Council, US and a chair and a member of the organizing committee for the Media Architecture Biennale 2012, and 14 in Aarhus (DK), 2016 in Sydney (Australia) and 2018 in Beijing (China).
Dave Colangelo
Dave Colangelo is an artist, educator, and researcher based in Toronto, Canada. He is a founding member of
Public Visualization Studio
. His writing, research, and practice uses media architecture (urban screens, LED façades, and public projection) as a means to support critical and creative engagements with the city, public art, and information.He is currently Professor and Coordinator of the Bachelor of Digital Experience Design program in the in the
School of Design
at George Brown College, and Director, North America, of the Media Architecture Institute. He is also Lighting Coordinator for
RyeLights
at Ryerson University.
His writing has appeared in C Magazine, Leonardo, Public Art Dialogue, and the Journal of Curatorial Studies and in edited collections on Museum and Gallery Design and the History of Film Studies.
His creative work as a curator and artist (with Public Visualization Studio) has been exhibited at The Bentway in Toronto, and at Open Signal and the Portland Winter Light Festival in Portland, Oregon. Writings and presentations on these works have appeared at the International Symposium for Electronic Art (ISEA) 2011 in Istanbul, ISEA 2013 in Sydney, at the 2013-14 Biennale of Architecture and Urbanism in Shenzhen/Hong Kong, the Media Architecture Biennale 2016, and in the Leonardo Electronic Almanac.
Colangelo holds an MA in Cultural Studies and Interactive Media from Goldsmiths College, University of London and a PhD from the York-Ryerson Graduate Programme in Communication and Culture in Toronto.
Late-Breaking Works Chairs
Martin Tomitsch – The University of Sydney, Sydney
Alexander Wiethoff – LMU, Munich